Advertisement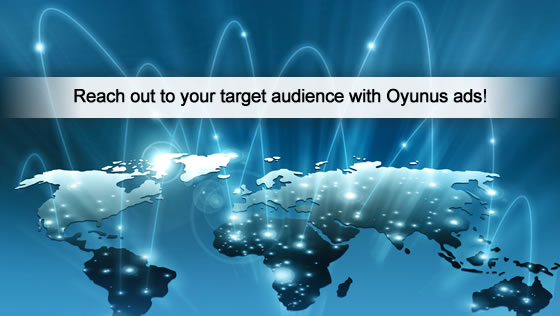 Oxygen for Your Brain motto and social responsibility mission are the key Oyunus differentiators. Oyunus with its 6-year experience, game portfolio not only geared to entertain but also to educate, dictionary database built with Turkish literature academicians is a true labor of love internet initiative.
Web Stats
Registered members: 975,000+
Daily web visits: 15,000+
Average web visit duration: 45 min.
Mobile Stats
Mobile downloads: 40,000+
Daily mobile visits: 3,000+
Avearge mobile visit duration: 5 min.
Oyunus User Profile

Oyunus Advertisement Offerings
Besides banner ad displays Oyunus offers various creative forms of advertisement for your brand or product. These can be cited as page skin, pre-game video display, game board logo placement and in game key word placement and competition.
Oyunus can also provide creative and content generation services for banner placement, page skin development and video content display.
For ad placement or further information please contact:
bilgi@kreatif-isler.com

+90 222 320 20 24